Stickers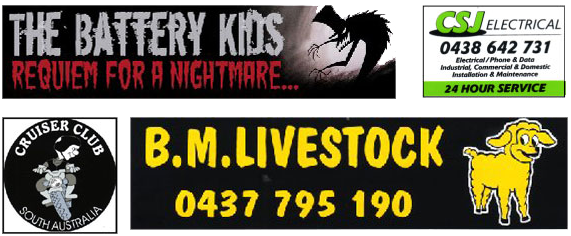 Quality Custom Stickers in Adelaide
How many vehicles are on the road at any one time? Probably a silly question - thousands!
How often do you see a bumper sticker prominently displayed on those vehicles? Yet another silly question - again, thousands!
So, what better place to promote your business, club or organisation than with a custom sticker on your vehicle. That sticker will be a moving promotion that will be seen and read by a multitude of people.
Why not use a Festival Screen Printing custom stickers to promote your business!
Whether you want to promote your business or simply show your affiliation with a club or organisation, a bumper sticker will say it all.
Vinyl custom stickers are reasonably priced making them a great "give away" item and can be produced to any size required.
They can be conveniently used in conjunction with a mail drop – just enclose one with the mail out.
Ideally, the sticker should be kept boldly simple so that it can be easily and quickly read from a reasonable distance while on the move.
And remember … people are more likely to use a sticker than to discard it.
For more information about custom stickers in Adelaide, call Festival Screen Print on 08 8523 0008 or via our
CONTACT PAGE